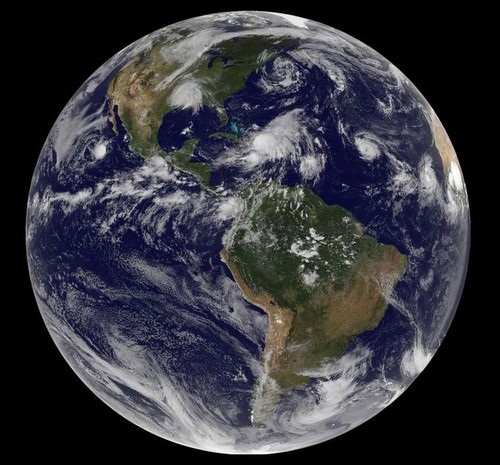 Space Stock Photos: Tropical Depression Ten formed in the early morning hours of September 2nd and by the afternoon it strengthened into Tropical Storm Josephine. That means that there were four tropical cyclones active in the Atlantic Ocean basin on Tuesday, September 2nd.
At 11:00 a.m. EDT Josephine was packing maximum sustained winds near 40 mph. She was located near latitude 13.2 north and longitude 25.3 west or about 125 miles south-southwest of the southernmost Cape Verde Islands, off the western African coast.
Josephine is moving toward the west near 15 mph and will move west-northwest over the next couple of days, passing just south of the Cape Verde Islands late on Tuesday bringing rainfall between 2 and 3 inches today and tomorrow. Estimated minimum central pressure is 1005 millibars.
This satellite image was captured on September 2 at 17:45 UTC (1:45 p.m. EDT) from the Geostationary Operational Environmental Satellites (GOES-11 and GOES-12). In the image, Tropical Depression Gustav is on the far left over northwest Texas; Tropical Storm Hanna is located to the right of Gustav, currently over the southern Bahamas; Tropical Storm Ike follows to the right in open ocean; and Tropical Storm Josephine is off the African coast, far right.
Keywords: picture of entire world, photo of earth from space, photo of earth, photo of the world, hurricane photo from space